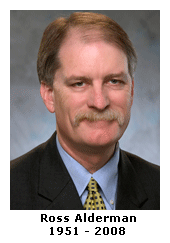 Ross Alderman was the Public Defender for Nashville and Davidson County from November 1999 to August 2008. Before that, he was Deputy Public Defender for seven years and had worked in the Office as a lawyer for over twenty years. In addition to his work in the Office, his long career as a criminal law practitioner included experience as an Assistant United States Attorney and as an Assistant Federal Public Defender.
As Public Defender, Ross served on numerous committees related to criminal justice issues. He served on the Mayor's Criminal Justice Steering Committee and the Davidson County Community Corrections Advisory Board. He was Chair of the Davidson County Task Force on Improving Community Responses to Women Offenders and Chair of the Justice Integration Services policy committee. Ross had been President of the Tennessee Association of Criminal Defense Lawyers and Chair of the Tennessee Bar Association Criminal Justice Section. He was a 2003 graduate of the Program for Senior Executives in State and Local Government at the Harvard University John F. Kennedy School of Government.
Under his leadership, the Public Defender's Office continued and built upon its long-standing tradition of providing quality representation and service to the indigent accused in Davidson County. In addition to continuing to recruit and train a diverse and exceptional group of employees dedicated to public service, the Public Defender has also instituted programs to make the Office's representation more effective and efficient by:
Obtaining a grant that created the Forensic Aftercare Team (FACT), a division of the Mental Health Cooperative that provides case management services for severely mentally ill defendants;
Maintaining a guardian ad litem (GAL) program, which provides legally trained advocates for children in dependency and neglect cases and obtaining funding for social workers to provide services to juveniles facing delinquency charges;
Establishing a working unit in the Public Defender Juvenile division to focus on the representation of juveniles targeted for transfer to the adult criminal system;
Increasing the number of Spanish-speaking attorneys, investigators and support staff in an effort to improve the quality of representation to the growing Hispanic community;
Working with other agencies of the Davidson County criminal justice system to create the Mental Health Court program and the General Sessions Treatment Court;
Working with other agencies of the Davidson County criminal justice system to create a more efficient booking and court appearance process.
Ross was born and raised in Hardee County, Florida, where he earned the rank of Eagle Scout. He graduated from the University of Tennessee College of Law in 1976. Ross and his wife married in 1979, and their son graduated from Hillsboro High School.
Ross Alderman passed away on August 9, 2008.