PHONE SCAM ALERT! DO NOT RESPOND!
BAIL MONEY SCAM. DO NOT SEND MONEY. No public defender in Nashville (or anywhere else) will contact a member of the public by telephone or any other means demanding money via wire transfer, or any other form of payment. Anyone receiving such a phone call should refuse the demand and contact his/her local law enforcement agency or the Metropolitan Public Defender's Office.
The Metropolitan Public Defender's Office in Nashville has received reports over the past few months about a phone scam in which a resident (usually in another city) receives a call from someone claiming to be from this Office. The caller tells that person that he or she has a loved one in jail here who needs their help to make bond. The scammer provides a fake name and phone number for the loved one's "public defender," and instructs the family member to call him or her. When the family member calls, someone pretending to be that "public defender" instructs the family member to wire money so his or her loved one can make bail. Sometimes the scam even involves a person crying and distraught, and pretending to be the person's family member.
Public Defender Offices in other states — including California, Missouri, and Ohio — have been the subject similar scams. Information about those scams can be found here:
http://www.chillicothegazette.com/story/news/local/2015/01/21/police-warn-public-defender-phone-scam/22103125/
http://www.stlamerican.com/news/community_news/article_d257f5a2-5b1e-11e0-9ec9-001cc4c03286.html
http://www.sbcounty.gov/uploads/CAO/pressreleases/content/PR_Public_Defender_Scam_4-23-14.pdf
NOTICE!
Is your driver's license suspended because you cannot pay court costs, fees, and fines?
You may be eligible to get you license back for free.
Based on a July 2, 2018, federal court ruling, the Tennessee Department of Safety and Homeland Security will reinstate and reissue a driver's license without charge to any person whose revocation is for failure to pay fines, fees, and other court costs on any non-driving offense.
The court's ruling only applies to people who lost their driver's license since 2012 for nonpayment of court costs. If your license is suspended for another reason, such as a DUI, unpaid child support, or unpaid traffic tickets, you are not eligible for free reinstatement at this time. These other reasons for suspension or revocation must be addressed before you can get a license reinstated or reissued.
How do I get my license back if I am eligible for free reinstatement because of the court order?
The first step is to contact the Tennessee Department of Safety's main reinstatement center at this toll-free number: 866-903-7357. Take this step as soon as you can.
If you are unable to reach a person at this number, you can also visit a local reinstatement office. Click here for more information.
---
Civil Rights Corps has reached a $14.3 million settlement in their class action lawsuit against Rutherford County and PCC. Anyone who was on probation from October 2011 through March 2016 in Rutherford County qualifies as a class member who can recover a money award, and those on probation after that may qualify.
Civil Rights Corps wants to reach as many class members as possible, and they have asked for our help doing so. If you know of anyone who meets these criteria – including clients or former clients – please share this information with them.
Link to the claim website: https://www.pccrutherfordsettlement.com/
Phone number to call: 1-888-805-9120
---


---
"The Mission of the Metropolitan Public Defender's Office is to defend the liberty, honor and constitutional rights of the individuals, of all ages, whose cases have been entrusted to us. Through zealous advocacy, we strive not only to deliver excellence in our representation of each and every client, but also to stand with our clients and the community in working to create a more just, fair and compassionate legal system."
---
Welcome to the website of the Metropolitan Public Defender's Office. We are pleased to offer this resource to our clients, their families, and the general public, and we hope the information you find here helps answer your questions. As the largest criminal defense law firm in Nashville, we strive to provide the best possible representation to our clients. As a public service agency, we also want to offer the best service to our community.
Beyond the information you find here, you should know that the entire Staff of the Public Defender's Office takes great pride in the work we do. Our Mission is to provide zealous representation to our clients and to fight for equal justice for the indigent accused. We are truly honored to make the Sixth Amendment right to counsel a reality in Nashville. With all the problems in the criminal justice system today, we work to be one of the solutions.

FIRST 24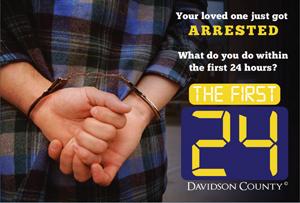 If your loved one is arrested, what can you do within the first 24 hours? Click on the link below for answers. Find out who to call to determine whether or not your loved one is in jail. Also find out about bail, when the first court appearance is, and who to call if you have concerns about your loved one's health.

TAKE THIS BOOK: Defendant and Family Handbook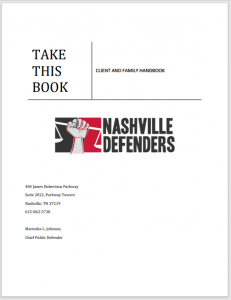 The Defendant and Family Handbook is designed to help you and your family understand the criminal justice process, the legal steps your case will go through, how your public defender will handle your case, and what resources are available to help you and your family through this difficult time. You can pick up a copy in our office, or read the digital version.