DEFEND NASHVILLE: A Five-Part Community Empowerment Initiative
Speaking Tour

If your organization or congregation is interested in learning more about the criminal justice issues plaguing our nation and city, what the Public Defender office does, and what the Defend Nashville campaign entails, we would love to add you as a stop on our Speaking Tour. Our Metro Public Defender Martesha L. Johnson, along with some of our other Nashville Defenders, will come speak to you all and answer any questions you may have.
Listening Tour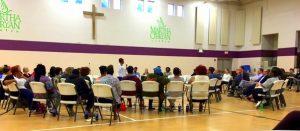 If there are members of your organization or congregation who have had experience with the criminal justice system and would like to share their experiences, concerns, or ideas with the Public Defender office, we would be honored to add you as a stop on our Listening Tour. Meaningful reform will never happen until we recognize that those who have suffered the most know best what needs to change. Our Metro Public Defender Dawn Deaner, along with some of our Nashville Defenders, will come to your community and invite members of the public to voice their concerns and share their ideas for change.
Court Watch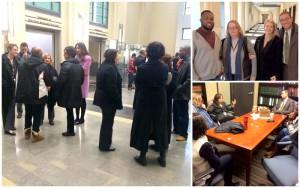 If you would like to witness what happens in our courtrooms every day, we invite you to participate in our Court Watch program. Sit in on actual court proceedings and see our criminal justice system in action.
Participatory Defense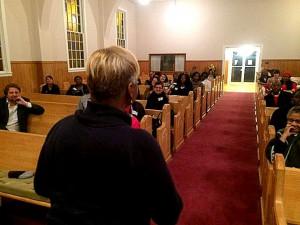 If you have a loved one who is facing criminal charges, we invite you to join in Participatory Defense. Participatory Defense is a community organizing model for people facing charges, their families, and their communities to impact the outcome of cases and transform the landscape of power in the court system. Participatory Defense is a valuable opportunity to come together with other people impacted by the criminal justice system in order to share knowledge and resources, and to learn to navigate the system. It is also a reminder that YOU ARE NOT ALONE, and that family and community involvement can dramatically change the outcome of the case of a loved one. If you are interested in Participatory Defense, please call 615-854-0982 or send an email to nashvillepartdef@siliconvalleydebug.org
Participatory Defense Meetings are held every Tuesday night at McGruder Family Resource Center (in partnership with Free Hearts). More info HERE.
Our Clients, Ourselves
The Our Clients, Ourselves initiative documents and collects the stories of the clients and staff of the Public Defender's Office in order to humanize the people operating within the criminal justice and public defense systems. The goal of this initiative is to bridge the gaps in communication and understanding across the Nashville community.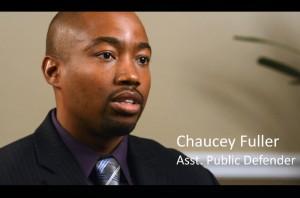 In February 2016, the Our Clients, Ourselves initiative released a brief documentary.
For more information on the Defend Nashville Initiative, please contact Deputy Public Defender Emily Herbert at (615) 862-5253 or via email at EmilyHerbert@jis.nashville.org