News: NPR Story Highlights Issues in Charging Indigent Defendants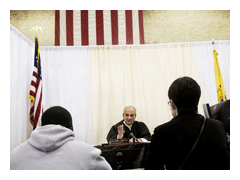 National Public Radio recently aired an important story called "Guilty and Charged" that highlighted the issue of charging indigent defendants all sorts of court and corrections costs, including the cost of representation, jail beds, etc. All stories are catalogued on the NPR website. Click here for full feature…
ACLU Report Details Billions of Dollars Wasted on Racially Biased Arrests
This report is the first to examine marijuana possession arrest rates by race for all 50 states (and the District of Columbia) and their respective counties from 2001 to 2010. The report relies on the Federal Bureau of Investigation's Uniform Crime Reporting Program and the United States Census' annual county population estimates to document arrest rates by race per 100,000 for marijuana possession.
The report finds that between 2001 and 2010, there were over 8 million marijuana arrests in the United States, 88% of which were for possession. Marijuana arrests have increased between 2001 and 2010 and now account for over half (52%) of all drug arrests in the United States, and marijuana possession arrests account for nearly half (46%) of all drug arrests. In 2010, there was one marijuana arrest every 37 seconds, and states spent combined over $3.6 billion enforcing marijuana possession laws.
Click here for full report from the ACLU web site….
50th anniversary of the Right to Counsel as Recognized by the U.S. Supreme Court Case of Gideon v. Wainwright
In 1963 THE SUPREME COURT decided the landmark case Gideon vs. Wainwright. The holding was simple: in felony cases people who cannot afford a lawyer must be provided one. Most states responded to the ruling by creating offices for public defenders to defend poor people charged with serious crimes. But Gideon's promise has not been fulfilled. Too many public defenders have become little more than speed bumps on an indigent's journey to conviction.
Most concerning is this: Every year hundreds of innocent indigents are swept away in the crushing tide of a system strained to the breaking point. As it stands today, innocents may spend decades in jail, some who are guilty are not brought to justice, and the public is rapidly losing faith in the fairness and competency of the criminal justice system. While the moral implications are staggering, this travesty of justice occurs against the backdrop of an unprecedented economic climate where an economically strapped nation can ill afford to spend needless dollars imprisoning the innocent.
Please visit the Gideon at 50 Anniversary site for more information…..
In additon the critically acclaimed film "Gideon's Army" is being presented by The Ford Foundation and HBO Documentary Films and will premiere on July 1, 2013 on HBO. GIDEON'S ARMY follows the personal stories of Travis Williams, Brandy Alexander and June Hardwick, three young public defenders who are part of a small group of idealistic lawyers in the Deep South challenging the assumptions that drive a criminal justice system strained to the breaking point. Backed by mentor Jonathan "Rap" Rapping, a charismatic leader who heads the Southern Public Defender Training Center (now known as Gideon's Promise) they struggle against long hours, low pay and staggering caseloads so common that even the most committed often give up in their first year.
For trailer and more information, click here….
Report Offers Solutions to U.S. Indigent Defense Crisis in Gideon's 50th Anniversary Year
Chicago, Jan. 8, 2013 – To help address systemic failures in providing constitutionally required legal counsel for indigent defendants, states can implement reforms such as reducing the number of criminal cases through reclassification and diversion or implementing other important, low-cost changes, according to a report by the American Bar Association Standing Committee on Legal Aid and Indigent Defendants and the National Association of Criminal Defense Lawyers.
The organizations are releasing National Indigent Defense Reform: The Solution is Multifaceted at the beginning of the 50th anniversary year of the U.S. Supreme Court's landmark decision in Gideon v. Wainwright. On March 18, 1963, the court unanimously ruled that the Sixth Amendment's right to counsel applies regardless of whether a defendant can afford to pay a lawyer.
The report, available online here , documents a daylong discussion of 18 leading innovators in the indigent defense field representing all branches and levels of government, prosecutors, defense lawyers, law professors and nongovernmental organizations. Their blueprint for reform, often based on successful existing programs throughout the country, is organized into three broad areas:
Implementation of front-end reforms such as reclassification and diversion, which help reduce the number of cases entering the system;
Creation of indigent defense commissions and establishment of public defense training and performance standards; and
Improved collaboration and cooperation within and outside the criminal justice system to achieve significant, sustainable reform.
In his remarks at the ABA's National Summit on Indigent Defense in February 2012, which are included in the report, U.S. Attorney General Eric Holder recounted the nation's well-documented crisis in providing criminal defense for people who cannot afford a lawyer:
"Across the country, public defender offices and other indigent defense providers are underfunded and understaffed. Too often, when legal representation is available to the poor, it's rendered less effective by insufficient resources, overwhelming caseloads, and inadequate oversight…. [T]he basic rights guaranteed under Gideon have yet to be fully realized. Millions of Americans still struggle to access the legal services that they need and deserve – and to which they are constitutionally entitled. And far too many public defender systems lack the basic tools they need to function properly."
Said ABA President Laurel G. Bellows: "The ABA Standing Committee on Legal Aid and Indigent Defendants is pleased to join the National Association of Criminal Defense Lawyers in presenting these valuable recommendations for solving the nation's indigent defense crisis. Every criminal defendant, whether rich or poor, deserves a qualified lawyer to defend against the state's charges. We hope that policymakers will consider our joint report, along with ABA guidelines, standards and other resources available at www.indigentdefense.org , to make needed changes and fully implement the Supreme Court's Gideon decision."
Said NACDL President Steven D. Benjamin: "NACDL is committed to the full realization of the promise of Gideon. We will work tirelessly until it is achieved. This report adds valuable insight and perspective to NACDL's significant research in this area. We are proud to have been a part of this important addition to that work."
The report was funded by the U.S. Department of Justice's Bureau of Justice Assistance and prepared by professor Joel M. Schumm of the Indiana University Robert H. McKinney School of Law. The project was co-chaired by professor Adele Bernhard of Pace Law School, professor Robert C. Boruchowitz of the Seattle University School of Law, and NACDL Executive Director Norman L. Reimer.
In addition to the report, this same BJA grant-funded project allowed the ABA and NACDL to provide free national defender trainings in Atlanta, Ga.; Austin, Texas; Indianapolis, Ind.; Las Vegas, Nev.; Lubbock, Texas; and Memphis, Tenn., on topics including forensic science, client-centered representation and advocacy skills.
With nearly 400,000 members, the American Bar Association is the one of the largest voluntary professional membership organizations in the world. As the national voice of the legal profession, the ABA works to improve the administration of justice, promotes programs that assist lawyers and judges in their work, accredits law schools, provides continuing legal education, and works to build public understanding around the world of the importance of the rule of law.
Inmates Who Can't Make Bail Face Stark Options
A recent piece by NPR highlighted the serious dilemma faced by indigent individuals accused of committing a crime, but who are too poor to make even the lowest of bails. Using the real life story of Shadu Green, a man in New York charged with misdemeanor offenses for which he claims innocence, NPR reporter Laura Sullivan explained the realistic and coercive effect that continued pre-trial incarceration can have on someone who originally wants to fight his or her charges. For Green and many other indigent accused like him (including those here in Nashville), a guilty plea is unfortunately the quickest path out of jail and back to loved ones depending on them for support. However, it is not necessarily the least harmful path.
Is It Now a Crime to Be Poor?
In defiance of all reason and compassion, the criminalization of poverty has actually been intensifying as the recession generates ever more poverty. So concludes a new study from the National Law Center on Homelessness and Poverty, which found that the number of ordinances against the publicly poor has been rising since 2006, along with ticketing and arrests for more "neutral" infractions like jaywalking, littering or carrying an open container of alcohol.
Is It Now A Crime To Be Poor? by Barbara EhrenreichIs It Now A Crime To Be Poor? by Barbara Ehrenreich